"Serving Highlands County Since 1969"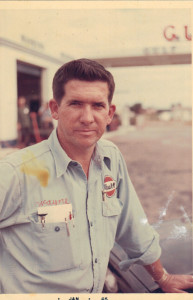 "I had a wonderful relationship with my dad. He gave me a lot of latitude and was a wonderful mentor," Charlie Taylor says, sharing his family's history and the story of Taylor Oil Company.
Charlie's dad, Wayne, began working for Mr. Tabor as a service station attendant at Tabor's Gulf station on Ridgewood Drive in downtown Sebring in the early 1950s. "Dad and Mr. Tabor developed a strong friendship and when Mr. Tabor and his wife moved back to New York, he sold the business to Dad," Charlie said. Gulf expanded in the area with an additional station at what is now the Southgate Publix Shopping Center on Highway 27. Wayne worked as a service station operator until 1969 when Gulf offered him a distributorship to sell bulk products, and later became what is known as a "jobber" owning the products and the stations.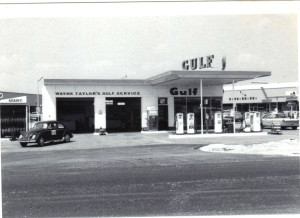 As the youngest and only son of four children born to Wayne and Dorothy "Dot" Taylor, Charlie says he "grew up in" the gas stations, learning all the ins and outs of the business. When he graduated from the University of Florida in 1982 with a degree in Business Finance, Wayne encouraged him to find employment in the banking industry, but Charlie was drawn back to the family business. "When I interviewed with other companies, they thought I was crazy to pass up the opportunity of our family business back home," he shared. So, back home to Sebring he went, initially working at the Ridgewood Gulf station where his father started. Charlie operated this station until it was sold when his uncle Larry Taylor was killed in a tragic accident at the station. Once it was sold, Charlie was promoted back to the main office.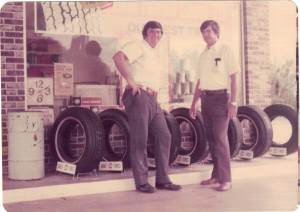 "Back then we sold everything – oil, tires, fuel – we had full service stations. We converted our first station to a convenience store in 1983, following the changing trend. Dad couldn't get over the idea of selling bottled water!" Charlie laughed.
Charlie and Holly began dating in high school, and were married shortly after she returned to Sebring, having earned a Political Science degree from UF. She worked as a paralegal for Jim Livingston and Cliff Rhoades for 10 years prior to joining the family business. The couple worked side-by-side with Wayne and Dot until they purchased the business in 2006. "It was amazing how well we all worked together," says Holly. "Dad was very methodical, he was a planner. Although he quit school in his junior year of high school in order to help my grandmother, he was extremely bright and later earned his GED. He taught me a lot of things that I never learned in college," Charlie recalls fondly.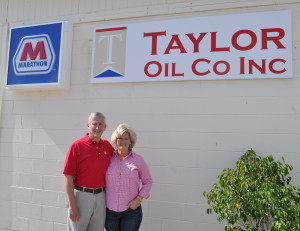 Folks in Highlands County may have noticed the branding change from BP to Marathon at Taylor's Food Mart convenience stores. Holly said, "We're simply flying a different flag, and are still providing quality products and friendly service to meet our customers' needs." Charlie adds, "Many things have changed over time, but the basics remain the same. We provide clean restrooms, friendly employees, and a well-lit, safe environment for our customers."
Today, Taylor Oil Company has both retail and wholesale divisions, delivering fuel to various municipalities, farming, and construction operations, and employs 39
people. According to Charlie, "We are the only family business operating retail and wholesale left in the area. We operate conservatively – it's how I was brought up and we are thankful to still be able to serve our community."
-This narrative is an excerpt from Robbi Sumner's profile in Heartland in the Field Magazine in 2013.